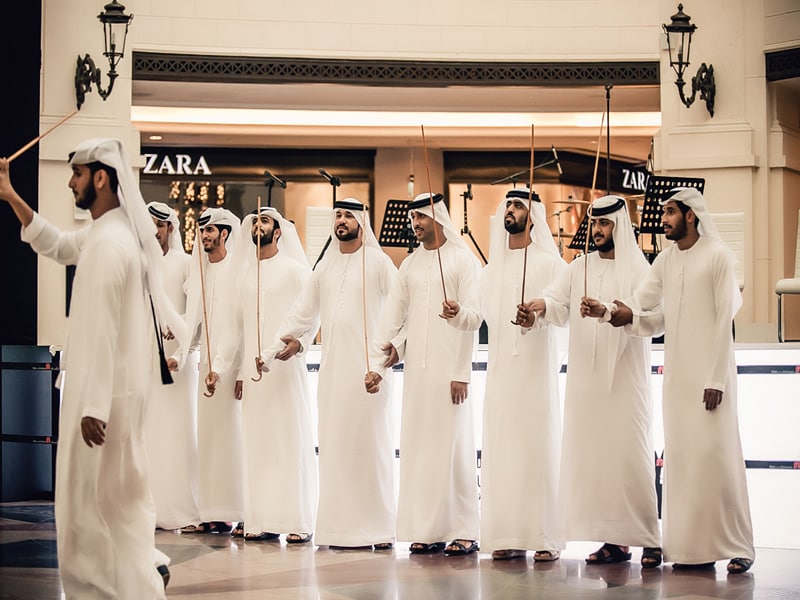 < Back to listing
Celebrate 47 years of pride at Majid Al Futtaim's shopping malls this UAE National Day
• Take part in creating a masterpiece of the UAE by learning the art of Origami at City Centre Mirdif
• Be part of the Year of Zayed interactive photo mosaic created with polaroid pictures at City Centre Deira
• Join the favourite grandmothers from Freej at the community malls for picture perfect moments
• Kids can express their love for the UAE by handcrafting pieces in the Art Lab at Matajer Al Juraina in Sharjah

Majid Al Futtaim—the leading shopping mall, communities, retail and leisure pioneer across the Middle East, Africa and Asia –invites visitors to its malls across the country to be swept up in patriotic fervour, experience the UAE's culture and hospitality, remember its historic past and celebrate its successes and prosperous future this National Day with a host of interactive family activities, traditional dances and kids workshops from November 29 until December 3.
Mall of the Emirates, City Centres, My City Centres and Matajer malls in the UAE will shine bright with an illuminating, contemporary themed décor to celebrate the country's 47th National Day. Embellished UAE flags will drop from the ceiling and an installation of glittering Arabian horses laced with the colours of the flag will be the centerpiece for visitors to pose with and share great moments with friends and family on social media from November 25 until December 3.
City Centre Deira
The mall invites you to participate in a series of fun on-ground activations with instant prizes up for grabs. Enter City Centre Deira's activation where shoppers are invited to be part of the Year of Zayed interactive photo mosaic where they will see their photographs on oversized polaroid pictures displayed on a big screen. Visitors can capture memories with friends and family on film at the 'Smile Corner' and share them with social media followers. The iconic polaroid camera has been set up with a seamless LED screen angled to the floor for people to interact with and create hashtag moments. Visitors can also be part of an iconic Year of Zayed
mosaic artwork by sharing selfies next to the giant polaroid. Back by popular demand, shoppers will have the chance to win instant prizes by grabbing items at the claw machine.
From December 1-3, visitors will experience the fascinating Ayala dancing, a traditional UAE folk dance where performers face one another and dance with sticks, signifying unity and among the tribes. Residents and tourists can celebrate by proudly wearing the complimentary flag-themed scarf and waving the UAE flag, which they can pick up from the customer service desk.
City Centre Mirdif
Show your solidarity with the country and its visionary leaders this National Day at City Centre Mirdif. Visitors to the mall are invited to share their messages and warm-wishes to the country on iPads which will then be broadcasted on a massive screen in real time at the mall. Social media users can join in by sharing photos and messages.
City Centre Mirdif will transform a corner into a dynamic family activity space from November 28 - December 3. Visitors can learn the art of origami and create symbolic pieces with small messages that will be hung on a statement wall to create a map of the UAE.
Visitors can get their hands painted with special gold and white henna at the Henna Station, while kids can enjoy the face painting station. Traditional entertainment will fill the mall from December 1-3 from 4pm until 8pm, and from November 29 until December 3 customers who shop for AED 500 will be instantly rewarded with two VOX Cinemas tickets.
City Centres – Northern Emirates
Everybody's favourite Emirati grandmothers Um Saeed, Um Saloom, Um Allawi and Um Khammas will be paying City Centre Fujairah's tiny visitors and parents a visit for National Day. From December 1-3, the mall will come alive with dance, song and giggles as the famous characters from the animated television series Freej will take over the mall for plenty of social media and selfie opportunities.
At City Centre Ajman, visitors will be entertained by a special, exciting, National Day band, while families at City Centre Sharjah will witness an exquisite performance by an all-female marching band.
Community malls
The Emirati grandmothers from Freej will also be stopping by My City Centre Al Barsha in Dubai and Ras Al Khaimah-based My City Centre Al Dhait from December 1-3 to delight children and create great family moments. My City Centre Al Barsha, My City Centre Al Dhait and My City Centre Al Nasseriya will also be hosting exciting National Day-themed workshops for kids.
Matajer Malls in Sharjah
Matajer Al Juraina will be hosting the Art Lab, an arts and crafts corner for young kids, from December 1-15. Children can let their imagination run wild and young artists can experiment with stencils, watercolour, tape, cotton, glass painting and calligraphy to create masterpieces. The art sessions will follow a National Day theme from December 1-3 where children will be guided to make and decorate items that represent the country and its culture. Matajer Al Mirgab will host pottery workshops where families will learn more about pottery, one of the oldest handcrafts in the UAE and be guided into making their own customised piece from November 29 until December 3.